I first met Alison Higgins of Grace Flowers in Hawaii back in August of 2018. I was on the island working on a project with Hitomi Gilliam AIFD and as we were pulling together components for a conference we leaned on Grace Flowers for local support. I was familiar with Grace Flowers because a dear Seattle friend of mine had moved to the big island of Hawaii and was working there – Nicole Cordier Wahlquist. I was so excited to go visit Nicole and see what they were working on at Grace Flowers, obviously such a different design aesthetic from what we see here in the Pacific Northwest. While visiting I had the pleasure of meeting Alison Higgins, owner of Grace Flowers, and we have kept in touch every since. I find the whole concept of being on an island and working with very local product to be very interesting and am so thrilled to have Alison here sharing more about her business with us!
Please enjoy —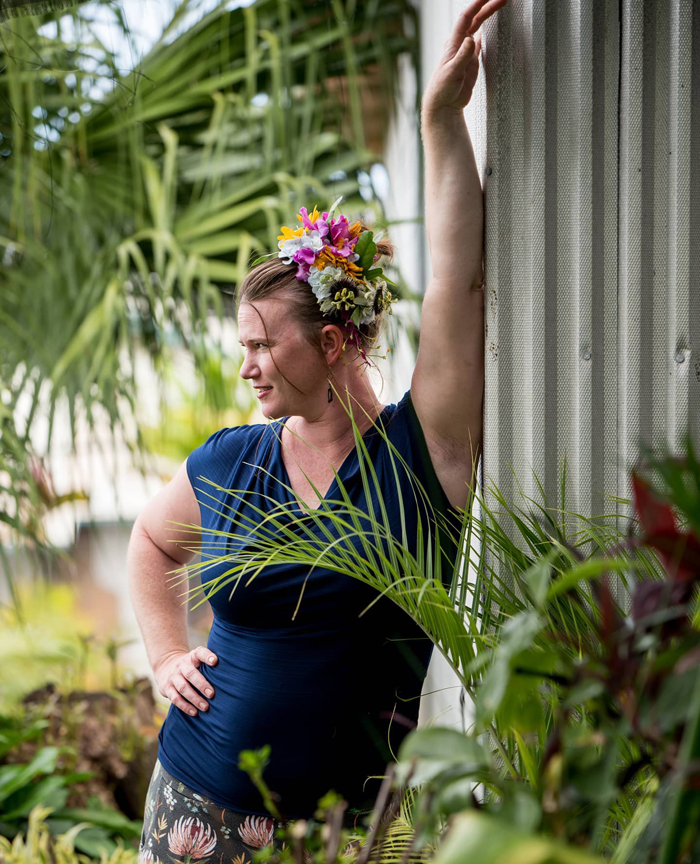 Alicia: Tell us a little bit about what prompted you to start Grace Flowers.
Alison: Growing up I was convinced I would be a botanist, in intermediate school I told my teachers I was going to be a botanist and was very offended when during career day at a hotel my advisor had me shadow the florist. (I distinctly remember telling them that the landscaping department would have been closest to what I was going to do lol) I still shake my head at the irony, but when I was 17 I started working at a hotel flower shop and fell in love with it. I worked for Floral Designs Maui in their Big Island location for five years and thought about opening my own shop once that gig ended. It took another 8 years to actually open. I would design small weddings and events while working other jobs, mostly in ag. In my late 20s I started talking more and more about actually having a brick and mortar shop and about that time I heard a rumor about a used commercial fridge for sale. In Hawaii shipping anything into the state is pricey and there are not a lot of appliance stores to choose from so buying a fridge was one of the things holding me back. For tropical flowers I would be fine letting them stay in a room with no ac or refrigeration, but if I wanted to offer roses or more temperate flowers a fridge was crucial. Once I bought a fridge (it was a "come and get it right away if you want it or we will sell it to the next person" type of deal) I basically had to get a shop since I didn't have room to put it in a garage or house. So the fridge was the catalyst for me opening Grace Flowers Hawaii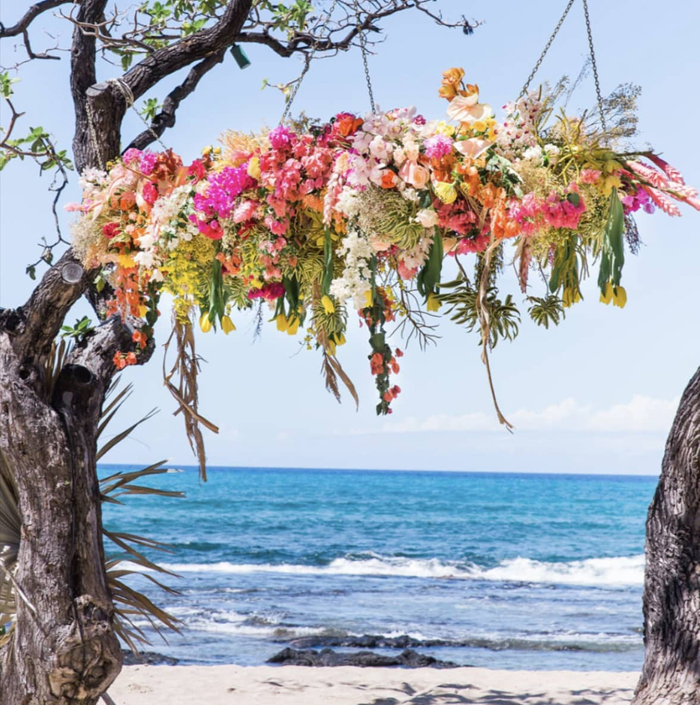 Alicia: What is it like sourcing flowers on the big Island? Do you procure flowers from local farmers? Are flowers imported? I find the whole idea of bringing flowers into Hawaii to be very interesting!
Alison: I am very fortunate to be on the Big Island or Hawaii Island as it is called and right now is an AMAZING time to be a florist in Hawaii. Since covid hit we are sourcing 99% of all product from local farms (one of the few silver linings from the pandemic). A sample of temperate flowers we are getting locally are: dahlias, sunflowers, dianthus, chrysanthemums, celosia as well as all the tropical flowers and foliage including proteas, orchids, and so many fabulous types of anthuriums. We work with over a dozen local flower farmers and having good relationships with them is so very important. I try to bring them treats when I pickup my flowers to keep on their A list. We are not able to find everything locally though, standard roses, baby's breath and carnations are not really being commercially grown in Hawaii right now, though they have in the past. Like many locations it was to hard for the farmers to compete with cheap overseas prices. We are able to source spray roses and that has helped us a lot. I think we have only shipped things in from out of state 5 times from March through November. Since December we have been using a wholesaler on Maui (Atrium Design Works) they source out of state as well as in state for product. Before covid we usually brought at least 1 box of flowers in a week through sources such as Camflor, Virgin and Mayesh LAX. One thing you need to know about our state is that there is not really any flower markets. If you need something like roses you have to either ship them in or pray to God that Safeway or Costco randomly have what you need. Atrium Design Works will often carry roses and other temperate flowers, but it takes a day to ship, so if we are in a jam that is time sensitive it can get harrowing. When shipping product there is always a risk that it does not arrive in good condition or does not arrive at all. A bill was passed a week before Mother's Day this year that bans the importation of anything in the myrtle family so if we ship something and there is any variety of myrtle found agents from customs and border protection will be holding the box. If the inspectors find any living insect or disease they will also hold the box. Shipping to Hawaii is also not cheap. Some of the flower wholesalers include the shipping in their stem price, but many do not so you need to know that if the shipping is not included it will be about an additional $100.00 per box. We love to source locally, but it can get very difficult when a client has a large wedding or event to source large numbers of product and our local farms just are not able to provide the stem numbers needed. I think this is a common problem with florists anywhere, the only difference is that we have to ship a little farther than most.
Alicia: What style do your clients gravitate to? Do they request a tropical feel or are they drawn to the typical flowers we see on the mainland like dahlias and garden roses?
Alison: This depends on where they are from. Usually we find that our local clientele tend to want flowers they can't get here easily, so they like more of the temperate/spring mainland flowers. Our destination brides often like a tropical vibe, or sometimes a nice tropical nouveaux mix of both. There are always exceptions, but that tends to be the trend. We are thrilled to see anthurium flowers being so trending world wide.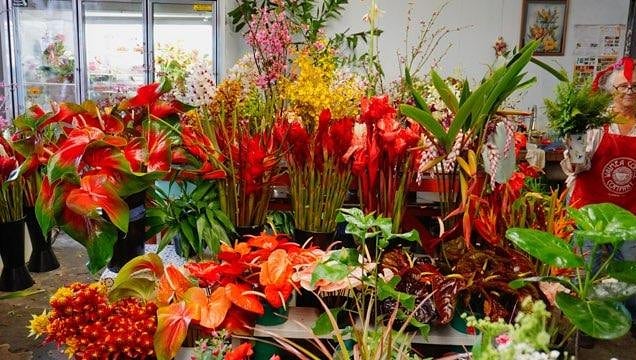 Alicia: What is your favorite part of being a floral designer?
Alison: Every day there is a new challenge. I never know what is going to happen from one day to the next. It keeps things staying fresh. Because the medium is perishable there is always something new to create. I love supporting local farms and small businesses in my creative designs and seeing what new amazing flowers and foliage they are growing. Taking flowers that some might see as commonplace and designeing them to be seen in a new and fresh way is always an exciting challenge as well. I just love flowers lol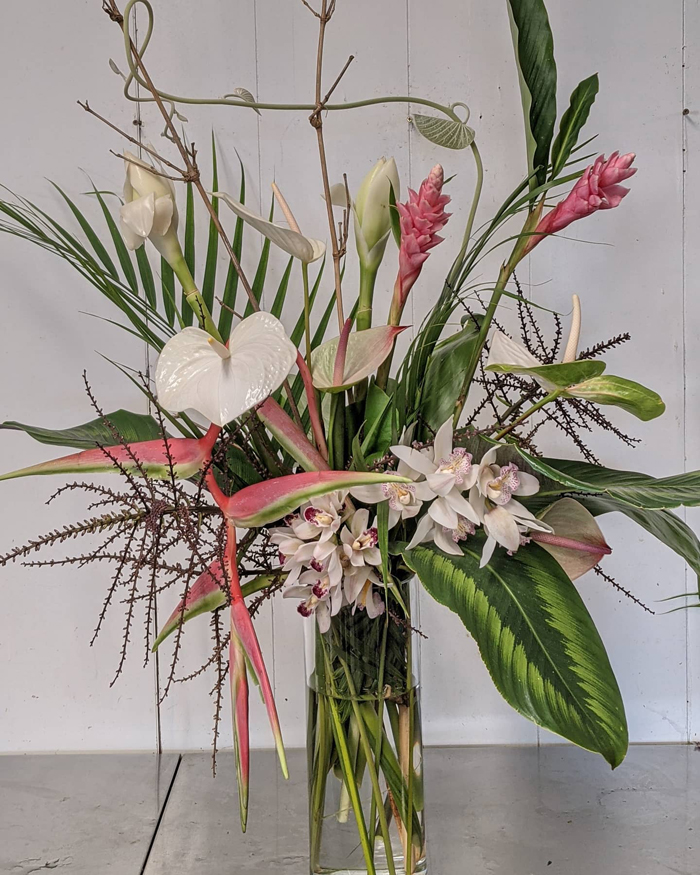 Alicia: What is the hardest part of being a floral designer?
Alison: The business side. I hate math and am not really business minded, although I've gotten better. Nicole Cordier Wahlquist and Missy Todd (part of my management team) have been amazing at helping me with the business side. One of the other hard parts for me is when a client says they don't like a flower. It makes me want to use them just to show how beautiful they can be.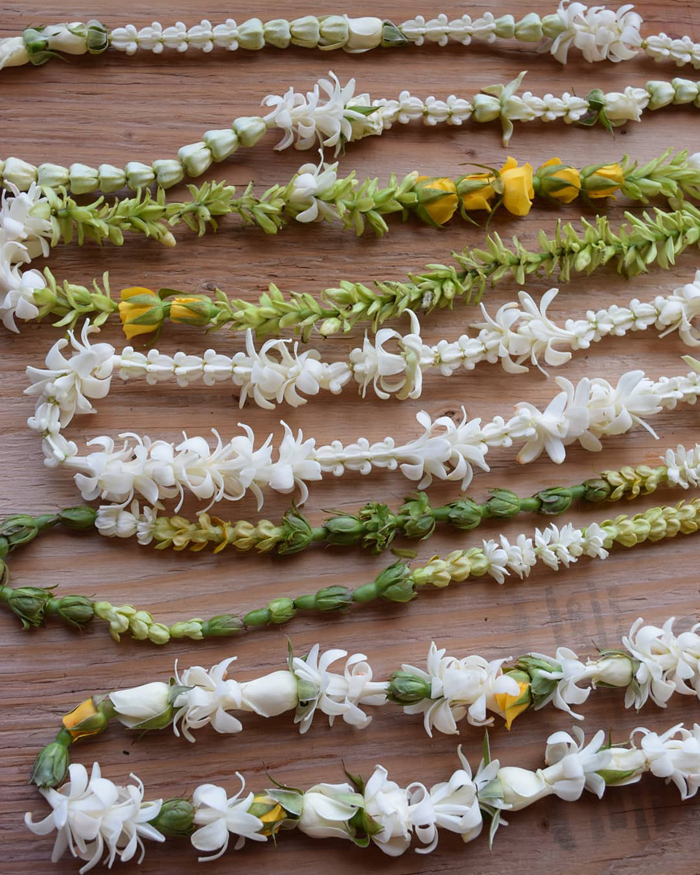 Alicia: What's the most valuable "lesson learned" you can share with us?
Alison: Hire good people, pay them what they are worth and hire an accountant! Staffing is often the hardest part of any business, but it is also one of the most important things. I have a truly amazing team and am so grateful for them. Even if you are a one person show, having the support for the paperwork side is sooo important.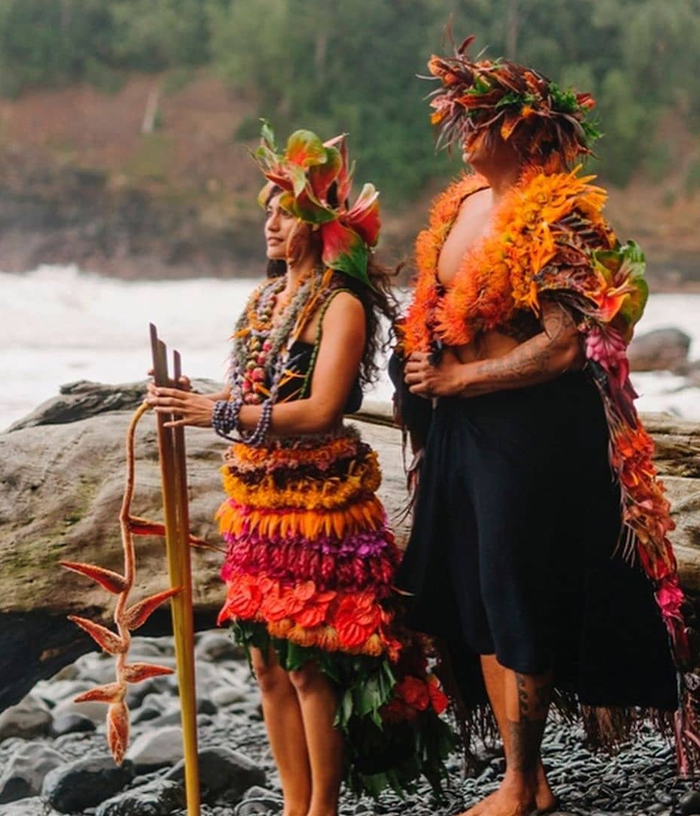 Alicia: If you were to design an arrangement for your home today what style would it be and what flowers would you use?
Alison: lol I can't remember the last time I designed just for me haha. I love anthuriums, scented geraniums, scabiosa, amaryllis, peonies, lavender, protea, hanging amaranth, garden grown carnations with the spicy scent….. Um I love pretty much every flower but if I was to arrange something for me I would like it to have fragrance and moodier colors.
Alicia: Anything else you'd like to share with Flirty Fleurs followers?
Alison: Just would like to remind fellow florists and flower enthusiasts to support local and search for ways to reduce, reuse and re-cycle. For our shop that means composting the green waste and using minimal foam. We are on an island so it is even more important to me that we try to seek out eco friendly practices.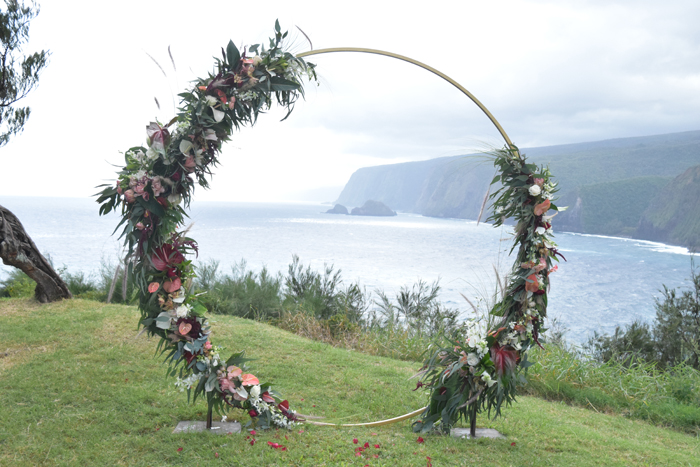 Thank you so much, Alison, for joining us here on Flirty Fleurs! I loved learning more about what it's like to be a florist on an island! Sounds like clients being flexible is one of the key components to keeping everyone happy!!
Here's Alison's Contact Information:
Grace Flowers Hawaii, Inc.
Alison Higgins
(808)-443-6953
www.graceflowershawaii.com
https://www.instagram.com/graceflowershawaii/

Read more: flirtyfleurs.com